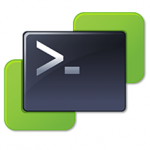 The other day I realized I needed to rebuild my SQL Server 2012 installation which I'm running on a virtual machine running on an ESX box. Given that I have PowerCLI and I like to do things from the command prompt when I can, I decided to mount the SQL Server 2012 ISO on the VM using PowerShell. This actually requires a few steps that I thought I would share.
First, you naturally need to have PowerCLI installed. You will need to import the necessary snapins and connect to the ESX host.
Add-PSSnapin
VMware.VimAutomation.core
Connect
–
viserver
–
Server ESX
Once connected, I can begin the process. Next, I need to copy the ISO file the datastore so that I can mount it from the VM. While the vmstore: PSDrive is fun to work with, you can't copy from the filesystem. Copying between providers is simply not allowed. Instead I'll use the Copy-DatastoreItem cmdlet. This will allow me to copy a local file to the VMware datastore.
The tricky part here is to get the right format for the datastore destination. This is where I want to copy to:
PS
vmstore:\ha
–
datacenter\datastore3\ISO
>
dir
Datastore path: [datastore3] ISO
LastWriteTime Type Length Name
————- —- —— —-
8/18/2009 9:09 AM IsoImageFile 2996799488 en_windows_server…
The "trick" is to grab the value for Datastore path from the directory listing. Thus, I can run this to copy the ISO file to the datastore.
$iso
=
"C:\users\jeff\Downloads\en_sql_server_2012_standard_edition_with_sp1_x86_x64_dvd_1228143.iso"
$dest
=
"vmstore:\ha-datacenter\datastore3\ISO"
Copy
–
DatastoreItem
–
Item
$iso
-Destination
$dest
-passthru
You get a nice progress bar and in a few minutes the file is copied. Now I can mount it in the VM's CDDrive using Set-CDDrive. The cmdlet will need a CDDrive object from a VM and the path to the ISO file. I'll have to construct a path using the VMware datastore format. It looks a little funny because it is not a typical Windows path.
$isopath
=
"[datastore3] ISO\en_sql_server_2012_standard_edition_with_sp1_x86_x64_dvd_1228143.iso"
For situations like this, I find it easiest to use the corresponding Get cmdlet, and pipe the resulting object to the Set cmdlet.
get
–
cddrive
–
VM
"globomantics db"
|
set
–
cddrive
–
IsoPath
$isopath
–
Connected $true
The only other parameter I specified was to connect the CDDrive to the VM. This command takes a moment to run and then in the VM I can "see" the DVD and use it normally. Awesome. When I'm finished I can dismount the CD much the same way.
get
–
cddrive
–
VM
"globomantics db"
|
set
–
cddrive
–
NoMedia
This may seem like a lot of typing, but if it is something I need to do a lot I could build a simple script or function. And it is still faster (for me) than navigating the GUI.