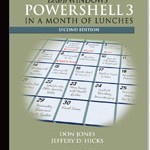 I am very happy to report that the new version of Learn PowerShell 3 in a Month of Lunches is now available from Manning. This is the second edition of the popular book originally authored by PowerShell legend Don Jones. Don invited me to collaborate on the second edition which covers PowerShell v3 and I am very, very happy with the result. I hope you will be as well.
This is the book to get you jump started on using PowerShell right away as a management tool with easy to follow lessons and labs that you should be able to finish over a lunch break. When you are finished with this, the next step is Learn PowerShell Toolmaking in a Month of Lunches which should also be out very soon. If you'd like to learn more about this book, get a sample chapter, download source code or the lab answers, click here. We'd also like you to post a brief video clip of your unboxing telling the world why you bought the book and what you hope to learn from it.
Thank you so much for your support and enthusiasm.