The NJ PowerShell User Group is having a meetup on Tuesday, April 28th from 6:00 – 8:00 PM.  The first half hour will be for socializing, pizza, and playing pool at our coffee bar. 
Agenda:
                6:00 – 6:30: Pizza and socializing
                6:30 – 7:30: Presentation
                7:30 – 8:00: Q & A
Please note that the Webex meeting will start at 6:00 PM, but the actual presentation won't start until 6:30. In-Person a ttendees must register, print out their EventBrite ticket, and present it at the door.  Walk-ins will not be permitted.

 Eventbrite Registration Page  A Webex meeting link will be emailed to Eventbrite on-line registrants prior to the event. 
Presenter: Jeffrey Hicks (in-person)
Presentation: On the Job: Putting PowerShell Scheduled Jobs to Work for You. So you know how to use PowerShell and how it can make your job easier to do. But why should you have to be sitting at your desk to run a PowerShell script or command? Why not combine the simplicity of a PowerShell script with the ease of use of a scheduled task! PowerShell MVP and author Jeff Hicks will guide you through the process of setting up and using PowerShell scheduled jobs, including a few potential gotchas. By the end of the session you should know enough to be able to schedule the boring right out of your job.
Bio: Jeffery Hicks is an IT veteran with over 25 years of experience, much of it spent as an IT infrastructure consultant specializing in Microsoft server technologies with an emphasis in automation and efficiency. He is a multi-year recipient of the Microsoft MVP Award in Windows PowerShell. He works today as an independent author, trainer and consultant. Jeff has written for numerous online sites and print publications, is a contributing editor at Petri.com (http://www.petri.com), and a frequent speaker at technology conferences and user groups. His latest book is PowerShell In Depth: An Administrator's Guide 2nd Ed.

Twitter: @JeffHicks

Coffee Bar, Pool Table, and XBox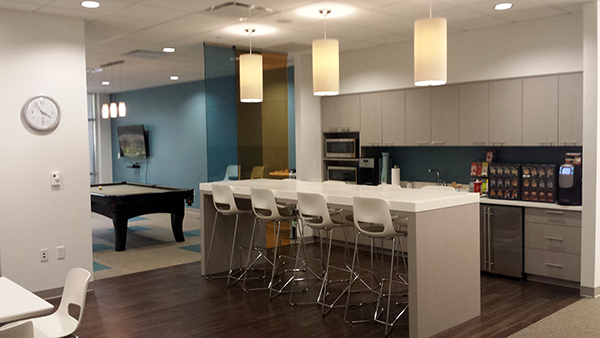 Conference Room